Looking for a green getaway? Are you an eco-minded traveler? If you seek to reduce your impact on the environment when you travel, then a Virgin Islands sailing vacation with us will be an excellent fit.
At &Beyond Yacht Charters, we are committed to sharing this unique Caribbean destination while maintaining gentle and intentional respect for the environment. Here are some of the ways that your Virgin Islands yacht charter with us is not only a luxurious, but also an eco-friendly vacation option:
1. Our Virgin Islands sailing yachts are crewed by teams who are passionate about protecting the seas.
We recruit crew members for our yachts whose experience and interests center around the ocean. Whether they're lifelong sailors, marine scientists, or master divers, they are educated in ecologically responsible behavior. Thus, they share their knowledge and devotion to the sea with their guests.
2. We strive to provide luxuriously sustainable vacation accommodations.
We outfit the yachts in our fleet with green amenities like organic bedding and linens, ocean safe toiletries, and energy-efficient appliances. Additionally, the yachts are designed to maximize natural resources such as skylights and breezeways. Plus, guests onboard our yachts are also provided with reef-safe sunscreen only. These small touches ensure you have a comfortable stay without harming the environment.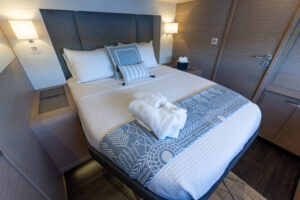 3. Water is a precious resource in the Virgin Islands, so we use it efficiently.
The &Beyond Yacht Charters fleet is equipped with advanced water filtration systems. These systems purify seawater, thus reducing the need for single-use plastic bottles. Also, it ensures you always have a steady supply of fresh water.
4. We reduce our waste at every opportunity.
Our yacht crews are committed to waste reduction. Onboard, we use reusable items like water bottles, utensils, and shopping bags, reducing single-use plastic waste that can harm marine life and ecosystems. And, anywhere we visit on charter, the only thing we leave behind are footprints (or snorkel bubbles!).
6. We embrace the natural side of paradise.
We love to sail whenever time and weather conditions make it possible, and provide our guests with access to water sports that require nothing more than your body to operate such as snorkeling, hiking, paddle boarding, and kayaking.
7. We provision our yachts with locally caught fish and locally grown produce whenever possible.
We plan our menus for your charter with locally available ingredients in mind. Sometimes, your crew will even dive for your dinner! Local lobster, anyone?
Embarking on an eco-friendly Virgin Islands sailing vacation is an opportunity to explore paradise without making a negative impact upon it. By choosing &Beyond Yacht Charters, who prioritizes sustainability, you can rest assured that the environmental responsibility of your holiday is being taken care of in every aspect of your trip.