Descubrir el mundo submarino, es sin lugar a dudas, un espectáculo natural diferente e inolvidable. Y si bien varios son los destinos que ofrecen esta actividad, practicarla de forma personalizada puede mejorar por completo nuestra experiencia. Para que esto sea posible &Beyond Yacht Charters, nos propone disfrutar de unas vacaciones tripuladas por dos profesionales del buceo, amantes del océano y verdaderos conocedores de los rincones más asombrosos de las Islas Vírgenes. Ellos viven en las islas hace muchos años, navegaron y exploraron infinitas horas y es por esto que conocen lugares increíbles, de acceso únicamente en barco y saben cual es el momento perfecto del día para ir.
A bordo de &Beyond la experiencia de buceo empieza de la mano de Heiko y Rebecca, quienes nos llevan a vivir una aventura única en el Caribe, priorizando nuestro disfrute, cuidado y confort en todo momento. Heiko, nacido y criado en Alemania, está certificado como RYA Offshore Yachtmaster. Es instructor de yoga, de freediving y su pasión es poder compartir experiencias únicas en la naturaleza. Trabajó muchos años en tecnología hasta que en 2014 decidió cumplir el sueño de viajar por el mundo. Recorrió los cinco continentes, conoció más de 30 países en los cuales escaló montañas, aprendió español, buceó y vivió aventuras increíbles dentro y fuera del mar. Lo que empezó como un viaje temporal, se convirtió en un antes y después en el camino hacia su nuevo estilo de vida en el paraíso caribeño.
Rebecca, nacida y criada en New York, se graduó en Economía y Psicología. Su vida cambió por completo en 2005 después de un viaje a Australia en el cual aprendió buceo en la Gran Barrera de Coral. Dos años más tarde, dejó la ciudad para vivir rodeada de naturaleza. Pasó dos meses buceando en Filipinas, tres meses en una expedición de conservación marina en Madagascar y cuatro meses completando su práctica de Divemaster en Malasia. Después de estas experiencias, vivió en Suecia en donde descubrió su pasión por la navegación. Se certificó en PADI y trabajó como instructora de buceo en Tailandia, Hawai e Indonesia. Hoy en día disfruta de su vida en el Caribe y de amanecer cada día con vista al paraíso.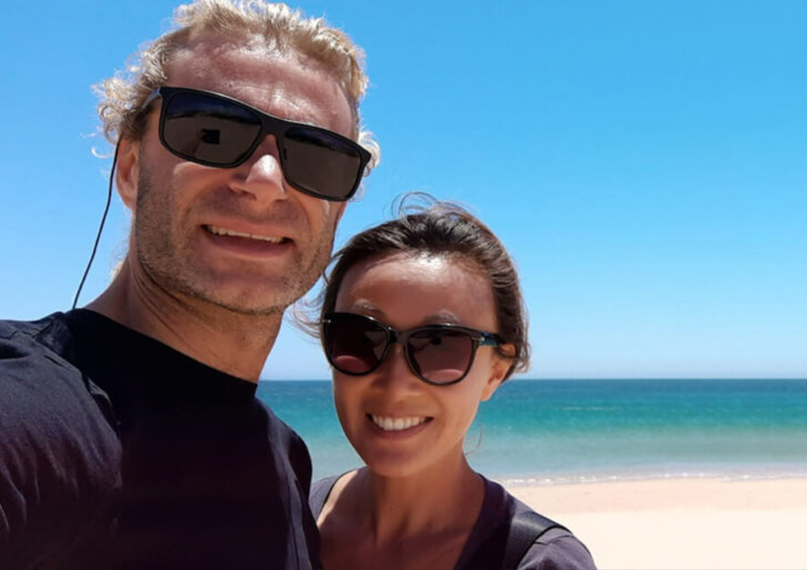 Today she enjoys her life in the Caribbean and sunrise every day with a view of paradise. As well as diving professionals, Heiko and Rebecca are navigation captains and did their training and licensing together. With them, clients live a relaxed experience while they enjoy discovering the natural wonders of underwater life. After personalized and supervised dives, they get their clients dedicated to enjoying all of &Beyond's onboard amenities and services.
Rebecca es amante de cocinar y algunas de sus especialidades son los menús plant based y raw, ya que ambos llevan una alimentación vegetariana. Heiko se dedica a explorar las islas en su tiempo libre, descubriendo nuevos rincones para compartir. Ambos suelen agasajar y sorprender a los huéspedes con sus manjares, sus recorridos por los mejores spots de las islas y con su pasión por inspirar un estilo de vida en armonía con la naturaleza.Apasionados por brindar un servicio de alto nivel en un ambiente relajado y amigable, Heiko y Rebecca asi como todo el equipo de &Beyond Yacht Charters, crean experiencias únicas en las Islas Vírgenes para quienes buscan unas vacaciones de relajo, disfrute y aventura en el Caribe.
¿Cuáles son algunos de los lugares más increíbles para bucear con &Beyond en las Islas Vírgenes? One of our favorite dive spots is Great Lameshur ? it's covered in pink, purple and yellow coral, creating a dazzling underwater landscape that reminds us of a garden. The marine life that we can find is very abundant and includes tropical reef fish, small creatures such as shrimp, crabs and snails and larger species such as green sea turtles, Caribbean reef sharks and nurse sharks.
¿Cuáles son los requisitos para bucear junto con &Beyond? ¿Es necesario tener alguna experiencia previa? On &Beyond's Felix Yacht we offer guided dives for certified divers, usually with Heiko, and an introduction to scuba diving called PADI Discover Scuba Diving, which is a highly supervised experience for those without scuba certification. The latter is done with Rebecca, who is an instructor and therefore qualified to do this program. The dives we do are generally shallow (maximum 12-18 meters, average 6-7 meters), relaxed and easy dives for all ages and levels, so even if a person hasn't dived in many years, the places are and we also adjust our level of care and supervision. For those who have never dived before and want to give it a try, the PADI Discover Scuba Diving experience is the ideal way to try it out.
¿Cuántas inmersiones pueden realizarse durante nuestra estadía con &Beyond a bordo de Felix? The Felix onboard experience includes 3 dives for certified divers in a minimum rental of 6 nights. All equipment (BCD, regulator, mask, fins, wetsuit, weights, tank) is included and these dives are guided by Heiko. Additional dives can be added for an additional cost, subject to the planned itinerary, other activities the group has requested, and at the captain's discretion. Doing a dive will normally take up the entire morning between breakfast and lunch.
¿Cuál es el principal diferencial de bucear con &Beyond? On our Felix boat and together with &Beyond we offer a luxury diving experience. We help and supervise them at all times, before, during and after entering the water. It goes without saying that during the dive, we focus on everyone being safe throughout the journey. Before each dive we provide a complete and detailed dive summary covering all necessary information, tailored to our guests' experience and comfort level. We provide a much higher level of service than many of our guests are used to – all they have to do is dive!
Si tuvieran que describir la experiencia de buceo con &Beyond en las Islas Vírgenes en pocas palabras ¿qué dirían? We would say that it is without a doubt? an experience that will take you further!