Publicado en El Espectador 11 de Mayo, 2022, en Colombia
Vuelos en globo, suites con piscina privada y vistas al paraíso, picnics personalizados, navegación al atardecer y tratamientos de bienestar son algunas de las propuestas.
1. Argos in Cappadocia, en Capadocia, Turquía
rgos in Cappadocia es uno de los proyectos de transformación más importantes de Cappadocia, un hotel boutique que supera las expectativas de los viajeros internacionales más sofisticados.
Considerado por muchos huéspedes como una de las experiencias más románticas en el mundo, cuenta con 51 suites que combinan modernidad y lujo, incluyendo chimeneas y piscinas privadas ubicadas en túneles históricos y cuevas que fueron cuidadosamente restauradas.
The property, which used to be a former mansion and monastery, has gardens and terraces from which you can enjoy panoramic views of the Uçhisar Fortress, the Valley of Doves and the majestic Mount Erciyes. Because of the great historical and natural wealth that surrounds it and because of all the comforts and personalised services available, Argos in Cappadocia is a unique proposition for a trip for two.
In addition to the famous balloon flight, which is a must for anyone visiting Cappadocia and a romantic postcard in itself, the Argos team can create a series of tailor-made experiences for guests, such as a special breakfast for the couple, picnics with typical products, wine tastings from the hotel's cellar, moonlit walks, among others.
(Lea también: 7 glampings cerca de Bogotá para disfrutar del lujo de la tranquilidad)
2. Le Toiny, in Saint Barthélemy, Caribbean
Con una vista majestuosa del mar Caribe, en la ladera sobre Anse de Toiny se ubica el Hotel Le Toiny. Veintidós villas y suites exclusivas e independientes ubicadas en un oasis de calma y naturaleza que crea un ambiente único. Cada suite ofrece una piscina privada, una gran terraza y vistas a la maravillosa bahía de Toiny.
The essence of the hotel is calm and privacy, which is why all suites have more than 92 m² of private space including a terrace, large heated swimming pools and magnificent sea views making it the perfect setting for romantic getaways, honeymoons and anniversaries. Its restaurant, Le Toiny, offers a modern gastronomic menu, a simple and refined European-inspired cuisine prepared by its team of talented chefs.
A su vez, la propiedad cuenta con un Beach Club exclusivo para disfrutar de almuerzos y días de playa con todas las comodidades, al cual se puede acceder con transporte privado desde el hotel y que incluye además, un spa con tratamientos de bienestar. Las actividades de ocio son variadas y personalizadas, desde masajes hasta deportes acuáticos, visitas guiadas, sesiones de fotos, entre otros. Intimidad, exclusividad y relajación son las cualidades que destacan a las estadías en Le Toiny. Una experiencia diferente, en un destino sin multitudes y con todas las comodidades.
3. Villa Cora, en Florencia, Italia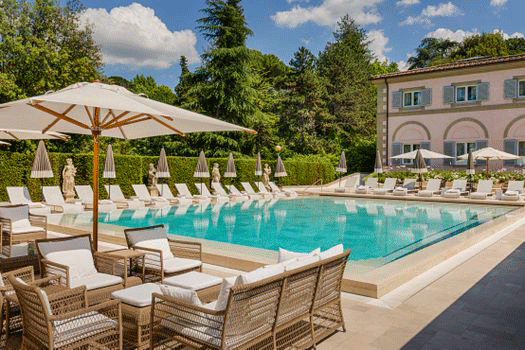 All the splendour and historical beauty of Florence comes to life in this hotel built and restored in 1868 in what was once a mansion overlooking the Boboli Gardens. Villa Cora was inaugurated when Florence was the capital of the Kingdom of Italy and became over the years one of Florence's greatest cultural and cosmopolitan symbols.
Se ganó su reputación luego de hospedar a figuras de gran importancia tales como la Princesa Eugenia, esposa de Napoleón III y el músico francés Claude Debussy, y es considerada la residencia más hermosa de la capital toscana. Villa Cora se convirtió en un gran hotel a finales de 1960 y desde 2016 es miembro de The Leading Hotels of the World.
Toda su historia es parte de la magia de este hotel formado por un edificio principal y otros anexos rodeados de suntuosos jardines de flores y piscina exterior. Estos espacios abiertos, junto con una terraza en altura, son perfectos para la celebración de cenas románticas o para disfrutar de un coctel en un entorno único.
Entre sus servicios destacados, el hotel ofrece un auto privado con chófer a disposición para el trayecto hasta el centro de Florencia, tiene dos fantásticos restaurantes, bar, cigar room, y un "pool bar" junto a la piscina. Ofrecen distintas actividades para hacer de a dos, como catas de vinos y aceites y clases de cocina.
To enhance the enjoyment experience, Villa Cora has a spa that includes a couple's massage room, where guests can also enjoy a sauna, swimming pool, a hammam and their selected wellness treatments.
4. &Beyond Yachts Charters y Lovango Resort, en las Islas Vírgenes
Las Islas Vírgenes de Estados Unidos son un paraíso caribeño poco explorado, con algunas de las playas más lindas del mundo. El lugar ideal para parejas que buscan un destino sin multitudes en donde disfrutar del mar, de actividades de conexión con la naturaleza (sin resignar comodidades) y de descansar profundamente. Para hacer esto posible, la firma &Beyond Yacht Charters, creada por dos amantes del Caribe y los océanos, ofrece la posibilidad de disfrutar de una estadía en yachts privados tripulados con servicio todo incluido y totalmente personalizados según las preferencias de los huéspedes.
To explore paradisiacal beaches while enjoying gourmet cuisine adapted to their tastes? To do water sports in hidden landscapes? To share yoga classes or sunset walks? With the proposal of &Beyond Yacht Charters and the dedication of its entire team it is possible to be inspired to create a different and totally tailor-made trip for the couple. Their crews are specially dedicated to provide services and experiences based on the couple's tastes. Their great differential is professionalism combined with the gift of being hosts.
(Read also: Here's how you can dive some of the Caribbean's most dazzling scenery).
And while the Virgin Islands are a highly recommended destination to discover aboard a private yacht, there is also a special proposal for those who prefer to combine a stay on land and at sea. Through the "Stay and Sail" programme, &Beyond Yacht Charters & Lovango Resort, hotel and beach club, offer their guests the possibility to enjoy a stay combining both experiences with all the comforts.
5. Itzana Resort & Residences en Belice
Itz'ana is one of Belize's newest hotels. It is located on the Placencia Peninsula in the southeast of the country.
On a palm-fringed white sand beach, Itz'ana Resort is a slice of Belizean paradise and a gateway to adventure and relaxation.
All rooms and villas at Itz'ana Resort have privacy as a priority, with wrap-around terraces, spacious interiors and a multitude of luxurious amenities. The one-bedroom beachfront villa with private pool is the ideal retreat for couples.
La propiedad cuenta con dos restaurantes Limilia y Biblio con experiencias culinarias que trascienden el Caribe. Desde cenas elegantes de temporada hasta cocteles magistralmente elaborados, sus espacios están diseñados para satisfacer e inspirar a todos los paladares.
And when it comes to romantic activities, Itz'ana launched the "we belong together" programme dedicated to those celebrating love, honeymoon, anniversary or just a romantic getaway. The programme includes four nights in the Beach Front loft, breakfast, sparkling wine on arrival, sunset sail, picnic for two and private romantic dinner. Includes transfer from Placencia airport and flight from Belize City.