When researching a vacation on a crewed catamaran charter, many people begin to wonder how they should go about selecting the crew they'd like to stay with. After all, you're going to be on the yacht for a week or more… you want to make sure it's a good fit, right?
You're absolutely correct. On an all inclusive yacht charter, your crew will be with you the entire trip, not only operating the boat, but also leading you on shore excursions, taking you out snorkeling, and assisting you with an array of other activities over the course of your stay. You most definitely want to ensure you're in the hands of professionals.
So how do you go about selecting a crewed catamaran charter?
Our best advice: Trust in a charter agency/brokerage to match you with the right boat + crew.
For us at &Beyond Yacht Charters, we strive to recruit and hire the best in the industry. The crews we place on our yachts have many years of experience in both hospitality and yachting. They also hold all of the requisite certifications in safety, yacht maintenance, and culinary arts. On top of that, we as a company conduct trainings throughout the year to keep our crews up to date on everything from mixology to the local area's floral and fauna.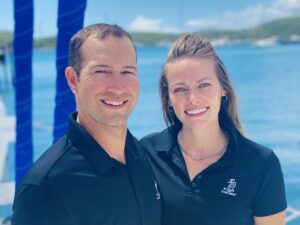 We match you with the best crew + yacht combo for your group.
When you book through a company like ours that works closely with all of the crews onboard our yachts, that means you don't have to do the research. Simply communicate the needs and preferences of your group (traveling with young children, celebrating an engagement, avid divers, etc.) and we will match you with the best yacht + crew to ensure you have a vacation that goes smoothly and is a ton of fun.
All of our crews have bios on the individual yacht pages on our site, if you'd like to take a closer look. But we recommend that you give us what you're looking for, and we'll handle the rest.
We know that there's nothing that can ruin a yacht charter vacation faster than an inexperienced, unprofessional crew. We take pride in ensuring that our crews will not only exceed your expectations, but will likely be your favorite part of your trip!