Ready to indulge in a vacation at sea? If so, you're likely in the midst of deciding whether private yacht vacations or cruises are better suited for you and your travel companions. While both options offer unique experiences on the water in stunning destinations, they each cater to different preferences and desires.
If you're looking for luxury and a getaway that will exceed your expectations for both fun and relaxation, then here's why our private yacht vacations may be the best pick for you.
–> Need concierge-level assistance to answer more specific questions? Please contact our yacht consultant for expert guidance.
Intimacy + Privacy are All Yours on our Yachts
You won't get lost in the crowd with &Beyond Yacht Charters. One of the most significant differences between our private yacht vacations and cruises is the level of intimacy. The yachts in our fleet offer an exclusive, personalized experience. Our yachting vacations are ideal for couples, multi-generational families, or small groups of friends.
With a limited number of guests onboard (anywhere from 2 – 8 per vessel), you'll enjoy undivided attention from the crew. Plus, you have the freedom to shape your trip around your specific preferences. The yacht you charter is all yours for the week. This means that you and your group have the space to connect with one another over meals, while lounging, and more without being interrupted by the thousands of other guests you share space with on a cruise ship.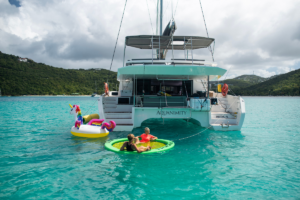 Your Itinerary is Flexible & Personalized
There are no set-in-stone schedules or predetermined cruising routes with us! Comparatively, our private yacht vacations give you a week (or more) of unparalleled flexibility. In collaboration with your captain, you can choose where to go, what water and land-based activities you partake in, and how long you stay at each destination. There is no specific daily time that you're required to be "back to the ship." Also, there is not a lengthy boarding/debarking process to account for.
On our yachts, you'll have access to secluded coves, hidden gems, bucket list activities, and more. Enjoy it all at your own pace, based on your level of interest.
Private Yacht Vacations are Luxury Travel at its Best
Hate standing in line at a buffet? We understand! Private yacht vacations are synonymous with luxury. Firstly, our vessels are fully crewed with professionally trained crew and captain, onboard at all times, at your service. Secondly, all meals are all-inclusive, locally inspired, and prepared to your specific dietary needs and preferences. Also, you will find &Beyond Yacht Charters yachts to be expertly appointed with all of the amenities you need to both play and relax. Unlike cruises where you're just another number, with us you're an individual whose expectations we can't wait to exceed.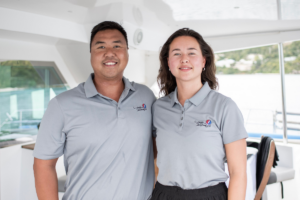 Are you ready to experience personalized luxury, freedom, and seclusion? Then the private yacht vacation of your dreams awaits, and we can't wait to welcome you onboard our yachts!