Looking forward to enjoying a state of pure relaxation on your chartered yacht? We can't wait treat you to a truly rejuvenating getaway!
We understand that a big part of relaxing for many of our guests includes indulging in your favorite drinks and cocktails – that's why they're included in your luxury charter experience. While sipping on a beverage of your choice can enhance the yacht experience, it's essential to know how to do it responsibly and safely. It's also important to know our policies regarding other substances onboard in advance of your yacht charter, so you pack accordingly.
–> If you need assistance in finding the right charter yacht for you, contact our yacht consultant. 
Here are a few things to keep in mind in regards to imbibing on your chartered yacht:
1. Know the rules and regulations of the boat & local government
Our yachts in our fleet all comply with the regulations of the US Coastguard and British Virgin Islands government. This means that no illegal drugs are allowed onboard our vessels including, but not limited to: marijuana, psychedelic mushrooms, cocaine, and any other party drugs. The legal drinking age in the US and British Virgin Islands is 18.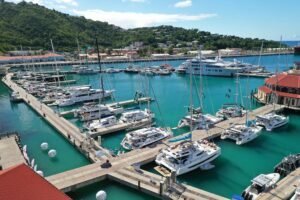 2. Plan ahead if you require prescription medication(s)
If you will need to take any prescription medications during your yacht charter, we recommend that you bring the necessary amounts with you. Pharmacies in the islands aren't always as well-stocked as they are elsewhere. This means that finding refills of your specific medications isn't always easy (or possible). Please ensure that your prescription medications are officially labeled and have your name printed on them. All prescription medication must be prescribed to a passenger onboard.
3. Stay hydrated on your chartered yacht
While enjoying alcoholic beverages is part of the yacht experience, it's equally important to stay hydrated, especially in the sun and sea air. Dehydration can lead to discomfort and seasickness, which can quickly ruin the fun. Remember to drink water even more frequently than you would back at home. Your crew will help remind you!
4. Respect your captain and crew
Please listen and respect any directions provided to you by your captain and/or crew members. Your safety is their top priority. This also includes not jeopardizing your captain's license by secretly bringing any illegal substances onboard the vessel.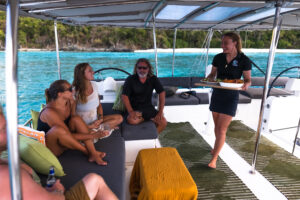 5. Know your limits and avoid overindulging
It's easy to get carried away in the relaxed atmosphere of a chartered yacht, but knowing your alcohol limits is essential. Overindulging can lead to accidents, seasickness, or other health issues. Enjoy your drinks in moderation, savor the flavors, and be mindful of how alcohol affects you.
Imbibing on your chartered yacht can be a fun part of your vacation, enhancing the overall experience. However, responsible and informed drinking is key to ensuring your safety, the safety of your fellow passengers, and the overall enjoyment of your journey.
Cheers to smooth sailing and unforgettable memories!