By Walter Duer
The experience of hiring a private yacht to dive in the Caribbean
Discovering the wonders of the underwater world is, without a doubt, a different and unforgettable natural spectacle. And although there are several destinations that offer this activity, practicing it in a personalized way can completely improve our experience. For this to be possible, &Beyond Yacht Charters proposes us to enjoy a vacation manned by two diving professionals, lovers of the ocean and true connoisseurs of the most amazing corners of the Virgin Islands.
Along with &Beyond, the diving experience begins on board commanded by Heiko and Rebecca, who will take us on a unique adventure in the Caribbean, prioritizing our enjoyment, care and comfort at all times.
Crew members, hosts and diving professionals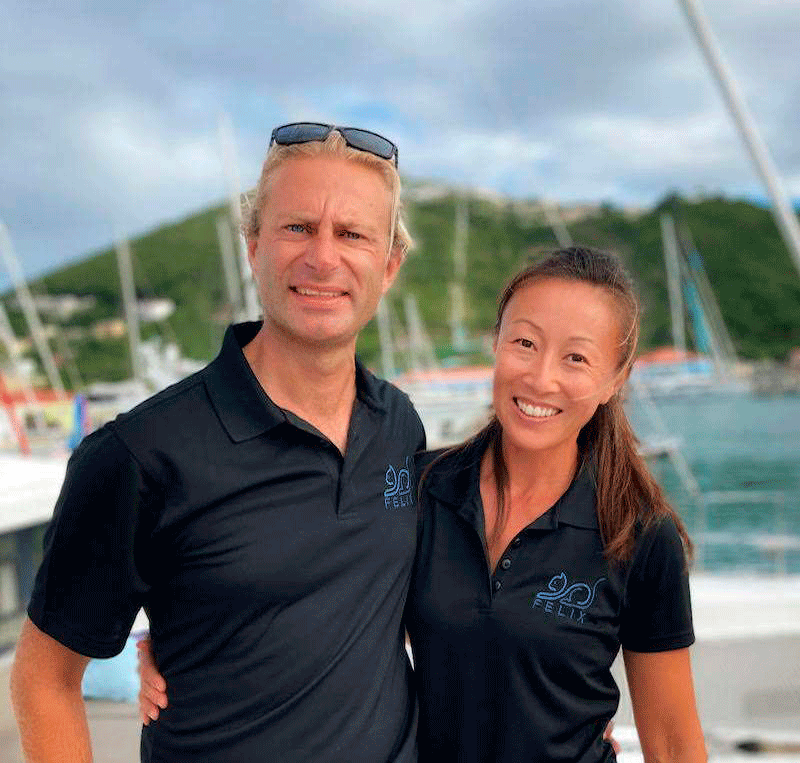 Heiko, born and raised in Germany, is certified as an RYA Offshore Yachtmaster. He is a yoga instructor, a freediver and a lover of sharing unique experiences in nature. For many years he worked in technology until in 2014 he decided to fulfill his dream of traveling the world. He toured Europe, Asia, Africa, Australia and Latin America. He got to know more than 30 countries in which he climbed mountains, learned Spanish, scuba dived and lived incredible adventures in and out of the sea. What he began as a temporary trip, became a before and after on his way to a new lifestyle in the Caribbean paradise.
Rebecca, born and raised in New York. She graduated in Economics and Psychology and worked in banks in New York and Hong Kong. She lived in different cities and her life changed completely in 2005 after a trip to Australia in which she learned to dive in the Great Barrier Reef. Two years later, she left the city to live surrounded by nature. She spent two months diving in the Philippines, three months on a marine conservation expedition in Madagascar, and four months completing her Divemaster internship in Malaysia. After these experiences, she lived in Sweden where she discovered her passion for life on board. She was certified in PADI and worked as a diving instructor in Thailand, Hawaii and Indonesia, always with a pending dream: to live in the Caribbean. Today she enjoys her tropical life and sunrise every day with a view of paradise.
As well as diving professionals, Heiko and Rebecca are navigation captains and did their training and licensing together. For them, it is a pleasure to be able to accompany their guests, both those who have dived on previous occasions and those who practice it for the first time and may have certain fears or doubts. Led by Heiko and Rebecca, clients live a relaxed experience while enjoying the abundant flora and fauna under the sea.
After personalized and supervised dives, they will dedicate their clients to enjoying all the comforts and services on board &Beyond.
Rebecca is a lover of cooking and some of her specialties are the plant based and raw menus, since they both have a vegetarian diet. Heiko spends his free time exploring the islands, discovering new corners to share. Both usually entertain and surprise guests with their delicacies, their tours of the best spots on the islands and their passion for inspiring a lifestyle in harmony with nature.
Felix, the ideal boat to dive in the Virgin Islands
This season, Heiko and Rebecca carry out their experiences aboard Felix, one of the &Beyond Yacht Charters vessels fully equipped to offer a personalized service. The Felix yacht has 4 queen-size cabins with en-suite bathrooms in which 8 people can comfortably sleep, it has great lighting and natural ventilation, as well as air conditioning in each cabin, living room and outdoor spaces to relax and enjoy.
Together with &Beyond, Heiko and Rebecca create custom itineraries aboard Felix in the US Virgin Islands, primarily around St. Thomas and St. Johns and all their paradise islands. The British Virgin Islands can also be a perfect setting for practicing this sport.
Whether it's for a fun family adventure or a Caribbean getaway with friends, the Felix is ​​an ideal vessel.
Passionate about providing a highly professional level of service in a relaxed and friendly environment, Heiko and Rebecca, as well as the entire team at &Beyond Yacht Charters, create dream experiences for those seeking a vacation of relaxation, enjoyment and adventure in the Caribbean.
#Caribbean #Beach #Diving #Adventure