Boats with all the comforts, destinations that are best enjoyed from the sea, different experiences and a greater connection with nature. Groups of friends, families, couples and even work teams opt for experiences in which they can combine their stay on land and sea. In this note, for those who can aim high, a selection of hotels and firms that offer the navigation proposal. Either to vacation completely on board, to combine the stay on land with a few days at sea or to be able to rent a boat with crew and all the personalized services for a few hours.
1) AND BEYOND YACHT CHARTERS: ON A YACHT MANNED BY THE US VIRGIN ISLANDS IN THE CARIBBEAN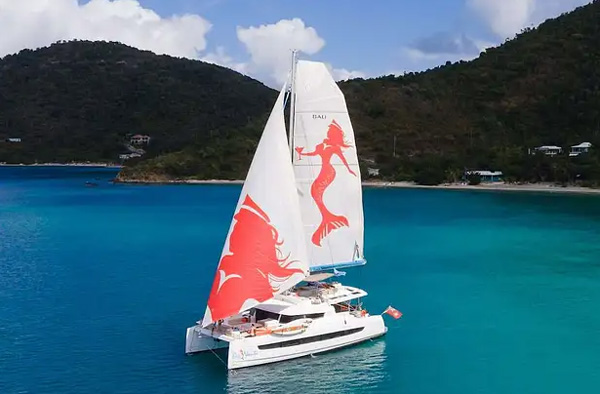 Created by Collin and Corinne, two lovers of the sea, «& Beyond Yacht Charters» is a manned boat rental firm with an all-inclusive service at sea. Based in the US Virgin Islands, their yachts cruise through several of the Caribbean's most stunning islands and destinations. They have a fleet of 20 manned yachts, all in "exclusive, all inclusive" service mode through which they create totally personalized itineraries for their guests. For those who are not yet encouraged to live on board for the entire stay, «& Beyond Yacht Charters» has an agreement with Lovango Resort through its "Stay and Sail" program, thus offering the possibility of enjoying a stay on a boat and in hotel, both with all the comforts.
https://andbeyondyachtcharters.com/
2) LA CORALINA ISLAND HOUSE: ON THE "DON JUAN" DESIGN SAILBOAT IN THE BOCAS DE TORO ARCHIPELAGO IN PANAMA.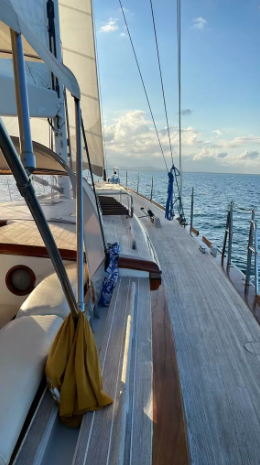 In the heart of Bocas del Toro, an archipelago of seven islands surrounded by the tropical setting of Panama, La Coralina Island House is the newest concept in oceanfront luxury in the Caribbean. Officially opened in December 2021, the destination, its villas and suites provide an immersive experience in the exuberant nature of the country, with the best views of the ocean. One of its differential services is to offer its guests the possibility of embarking on board "Don Juan", a ship designed by a world-renowned naval architect. Your vessel, Don Juan, is fully equipped to accommodate up to 6 passengers with 3 separate suites and bathrooms, kitchen, and service on board. On board Don Juan, guests have the opportunity to discover some of the best islands in Panama, such as the Escudo de Veraguas, in a unique way.
https://www.lacoralinaislandhouse.com/
3) HOTEL LAS ISLAS: WITH A NAVIGANT HOUSE IN BARÚ, COLOMBIA.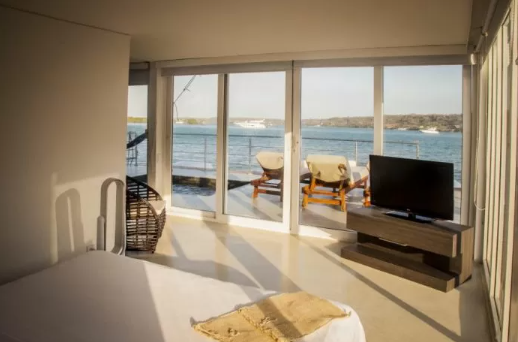 The Las Islas hotel, located in Barú, Cartagena, offers its guests the possibility of staying in one of its 56 bungalows: 23 at sea level, 33 in height with a view of the sea and internal gardens of the hotel and a navigator's house. For a completely different experience from the concept of bungalows, Hotel Las Islas offers the possibility of living a stay in its Casa Navegante, located in the Ciénaga de Cholón. The Casa Navegante experience includes two bedrooms with a king-size bed, two sofa beds, a living room, a freshwater or saltwater pool, a Japanese dining room and a regular dining room, two bathrooms, a freshwater shower, and amenities.
https://www.lasislas.com.co/es-co/casa-navegante
4) FASANO HOTEL AND ITS MANNED BOATS IN ANGRA DOS REIS, BRAZIL.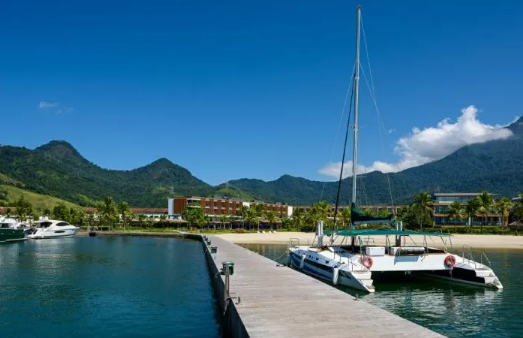 Fasano Angra dos Reis opened its doors in December 2017, on the Costa Verde, one of the most unique destinations in Brazil. A hotel located in one of the most stunning areas of the region and with access to beaches, boutiques, golf courses. Although the hotel offers absolutely all the comforts, they know that one of the best ways to get to know Angra is from the sea. This is why they offer their guests the possibility of renting personalized boats to discover the most incredible scenery of the islands. You can also snorkel or dive. The hotel has its own marine crew and the tours are personalized with a duration of 4 to 8 hours. They also offer the possibility of taking navigation classes for those who are interested.
https://www.fasano.com.br/hoteis/fasano-angra-dos-reis
Production and photos: courtesy of Cocó – Communication Committee -.