While most of our yacht charter inquiries are for a week or more, we occasionally receive requests from guests looking for a slightly shorter option, such as a 4 day yacht charter.
Our luxury yacht charter experience is one that you won't want to cut short – trust us. But if your schedule is limiting your availability, we can a certainly help you in arranging a trip on one of our yachts. These shorter trips work particularly well if you're willing and able to be flexible.
Because most of our luxury charters in the Virgin Islands are booked for 7+ nights at a time, that means that it may take a little creativity to find the right window on a yacht that can be available for a 4 day charter. The good news? Our yacht consultant Liza is a master with the calendar. Be sure to reach out to her directly for help!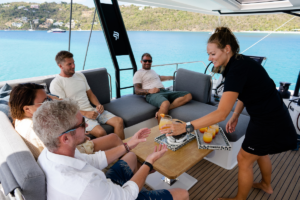 How to maximize your time on a shorter charter
To make the most of the time that you have onboard, we recommend that you work with our team to plan a realistic itinerary. We can develop one that makes sense for the amount of days. Depending on your pick-up location, we'll map out the stops that are the best fit with your preferences and location.
Another option: Combine your 4 day yacht charter with 3 days on land
Our Stay and Sail package gives you the best of both worlds. You combine nights on one of our yacht charters with nights on land at an exclusive resort. This season, we are partnering with the iconic Oil Nut Bay Resort on Virgin Gorda. Contact us for more details on how to maximize your island vacation with this incomparable experience.
Whether you're looking to join us for 4 days or 7+, we can promise you that your yacht charter will be unlike any other vacation you've ever been on. Come indulge in true luxury and see the &Beyond Yacht Charters difference!