Private yacht Caribbean vacations are the ultimate luxury escape. But if you've never been on one before, it may feel confusing as to how and where you go about booking yours. Do you need a travel agent? Is there a main booking website? How do you find the best deals?
Here are our top tips for how to book private yacht Caribbean vacations:
Get your yacht travel group together
Before you start looking into private yacht charter options, you'll want to know how many people you'll be traveling with. Why? Because that will determine the size yacht you'll be looking for. Private yacht charters in the Caribbean can generally hold anywhere between 2 – 10 guests. Any more than that and you'll need to coordinate multiple boats to travel as a flotilla.
Determine your Caribbean vacation travel dates (or general date range)
Do you have a specific week of the year that you'd like to go? Or are you open to options within a particular month? You'll want to have an idea as to when you'd like to go, as certain times of the year are more popular than others in certain regions and require more advance planning.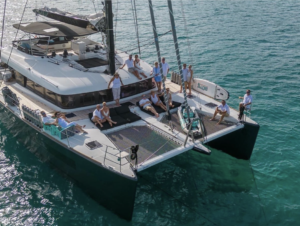 Do some basic research, but find a private yacht expert to trust.
This is perhaps the most important thing to keep in mind. The internet is a wild sea of information, and it's easy to feel overwhelmed by all of the options. Even if you do find an individual private yacht charter to book, there are a lot of aspects that you'll want to be aware of BEFORE you put down your deposit and book it. Finding an industry expert you can trust such as a yacht broker, or a specialized yacht consultant that covers many yachts for a reputable company, is your best choice. Our yacht consultant, Liza, represents not only all of the luxury yachts in our fleet, but she is also an experienced broker for yachts all over the world.
When you work with an expert, they can take in all of your travel details and wants/needs to then match you with the right boat and crew to ensure you have the vacation of a lifetime.