If you've got an upcoming wedding in the works, there's one thing you're likely looking forward to most… the honeymoon! When searching for honeymoon destinations, the Caribbean – in all its paradisiacal glory – is an easy choice. But where to stay? Enter: the all inclusive Caribbean yacht charter.
Here are our top reasons why an all inclusive yacht charter in the Caribbean makes for the ultimate honeymoon:
You just planned a wedding – the honeymoon is your time to relax and have the planning done for you!
On an all inclusive yacht charter, your experienced crew will handle all of the details. From the practicalities of clearing into Customs & Immigration, to where you should stop during the week, to meal planning and activities… it's all handled and off your plate. You two can sit back, relax, and enjoy the view – and we'll bring you some bubbly!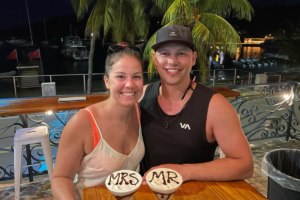 Because honeymoons should feel truly luxurious and decadent.
You only get one honeymoon, so this is your opportunity to treat yourselves! Having a well-appointed catamaran complete with a crew to pamper you – all to yourselves – is next level vacationing.
This is your time to reconnect and refresh.
After a wedding and everything leading up to it, you're both no doubt in need of a break from the world and some quality me + you time. On an all inclusive yacht charter, you get the peace you need to focus on one another, without distractions or annoyances like a busy resort swimming pool or lines at a breakfast buffet. Your yacht is all yours to lounge, dine, and indulge in, so you can re-enter the world as a rejuvenated newly married couple.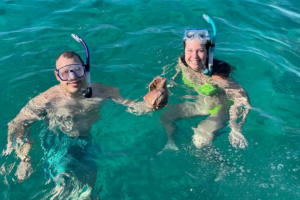 The Caribbean is uncomplicated and indisputably wonderful.
There is no better destination for an all inclusive yacht charter. Calm seas, smooth sailing, romantic sunsets, and dreamy beaches are the perfect match for honeymoons. And island hopping on an all inclusive yacht charter means you get to experience many islands without any intricate travel hoops to jump through.
If you're in the midst of planning your honeymoon and would like more details on Caribbean yacht charter destinations and the right yachts for two, contact our yacht consultant, Liza, for personalized assistance.