Are yacht charter vacations quickly rising to the top of your next vacation list? If you're seriously considering joining us for the ultimate escape, we cannot wait to welcome you aboard. Those in the research stage usually start to wonder how far in advance they need to make their final decision and reserve their charter. While our blanket recommendation is to book as far in advance as you're able to ensure you get exactly what you want, when you want, here are a few other factors to consider…
The time of year you're thinking of coming
The majority of our yacht charter vacations take place out of the Virgin Islands. The high season here is December – May, with Christmas, New Year's, and Easter weeks being in highest demand. If you're hoping to come during peak season, particularly if you have a specific week in mind, we recommend reserving a year in advance. Many of our repeat yacht charter guests reserve their next charter while ON charter, so the prime weeks at popular times of the year fill up a year or more in advance.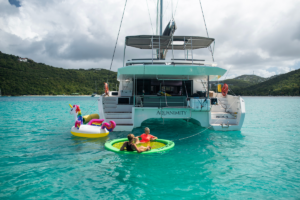 The amount of people you're traveling with
While we have yachts in our fleet that can accommodate anywhere from 2 – 10 people, the majority of them comfortably host 6 people. So if you're thinking of a getaway for 2, or have a large, multi-generational group of 8, your options will be slightly more limited, so booking further in advance will help a lot. The same goes if you've got an even larger group that you'd like to coordinate a multi-yacht flotilla.
How certain you are of your availability for yacht charter vacations
If you can't commit due to your schedule being subject to change, we recommend waiting until you're certain about a specific week to avoid cancellation fees.
How flexible you are on the yacht
If you've looked through our Yachts page and have your heart set on a specific yacht, check out their calendar and snag the week you want as soon as possible. If you're more flexible on the yacht and dates, it gives you more wiggle room to book within a tighter window.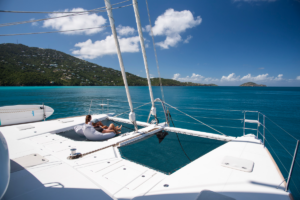 We'd love to help you plan, and can answer any questions you have that we didn't cover here. Contact Liza, our expert yacht consultant, for personalized planning assistance.