Plant based, Mediterranean, Asian, gluten free, paleo. The proposal of the firm & Beyond Yacht Charters to vacation in the Caribbean is for all tastes.
Gastronomy is, without a doubt, one of the main interests of most travelers when discovering a new destination. There are those who plan their itineraries based on discovering the local culture through the palate, as well as those who have a specific type of diet or those who always choose everyday flavors regardless of geographic location. Whatever the case, when it comes to vacations -and enjoyment- on board, the &Beyond Yacht Charters team is especially dedicated to offering a high-level, diverse and personalized gastronomic proposal.
Each ship has a crew of professionals and hosts who offer the possibility of a cuisine with different gastronomic influences on board, always with one factor in common: the quality and freshness of their products. Prior to the trip, the team conducts an interview with future guests to create a fully tailored menu and ensure that culinary tastes accompany the experience.
These are some of the gastronomic proposals on board of &Beyond Yacht Charters and its crew in charge: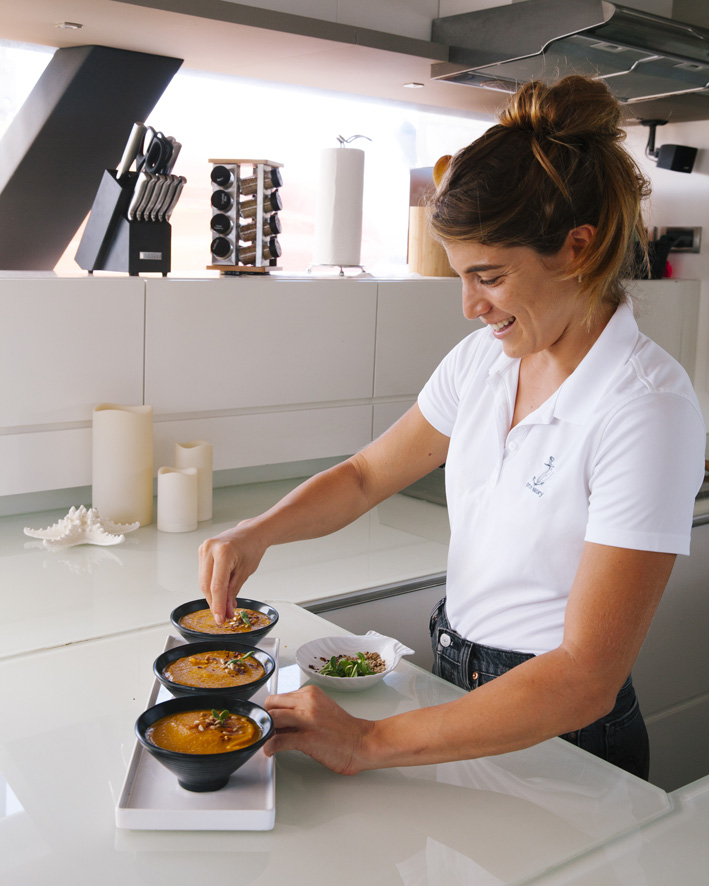 Fusión mexicana-asiática
Keagan and Olivia's love of cooking is evident in the surprised and happy faces of their guests. One of his passions is to delight you with Mexican-Asian fusion cuisine, combining flavors, textures and colors. His seal of welcome on the first night aboard his ship and one of his specialties is chicken curry. Keagan and Olivia create delicious and healthy dishes always including seasonal vegetables to have enough energy for the activities of the day.
Plant based and raw
Heiko and Rebecca are certified captains and yoga and diving instructors. Rebecca is a lover of cooking and some of her specialties are the plant based and raw menus, since they both have a vegetarian diet. They usually entertain and surprise guests with their delicacies while visiting the best spots on the islands and sharing their passion for a lifestyle in harmony with nature.
Italian roots and flavors
Stephanie grew up in a house with Italian roots where everyone cooked, always entertained and expressed their love through food. For her it is something very natural and in which she puts a lot of dedication. Her specialty is slow-cooked beef, "roman porchetta" and lobster that Jake catches right out of the sea.
Gluten free, keto, paleo and special diets
Chef Nikki specializes in allergies and restricted diets. She is extremely knowledgeable, particularly in gluten-free diets, as she has been cooking for a celiac person for decades, as well as having years of experience cooking keto, paleo, vegan and Whole30. Nikki is passionate about cooking and adapting her dishes based on guest constraints, choices and preferences. Both in her gastronomic menu and in her proposal of activities and rest, & Beyond Yacht Charters invites us to live a totally personalized vacation on board.