When searching for yacht charter vacations, you will likely come across options for bareboat charter, captain-only charter, and fully crewed yacht charter. We have shared some of the reasons we recommend chartering yachts with crews versus bareboating in this previous post, but we thought it would also be helpful to share the differences between a captain-only charter compared to fully crewed, which is what we provide at &Beyond Yacht Charters.
*Quick note: If you have questions beyond the scope of this blog post, feel free to reach out to our yacht consultant, Liza, for a concierge-level booking experience. 
Crewed, but with Captain only
Many yacht charters you will see listed in the Virgin Islands are crewed, but with a captain only. This means that for the entirety of your yacht charter vacation, it will be only your group and the one captain on the vessel. The captain will be responsible for the group's safety and operation of the boat, as well as transportation to and from the boat via dinghy. He/she will share their local knowledge and recommendations, but beyond that, you will be responsible for the rest – meals, food prep, cleaning, activities, etc.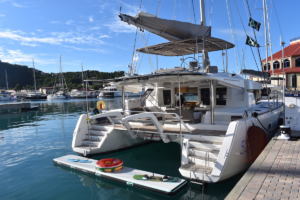 Fully crewed Yacht Charters
At &Beyond Yacht Charters, all of our yachts are fully crewed because we believe it provides a far superior luxury vacation experience.
On our fully crewed yacht charter, there will be a captain and one or two crew members onboard (depending on the size of the vessel) for the entirety of your charter. Our crew members provide an array of services that are officially no longer your responsibility as a guest.
Our crew will assist the captain with the operation of the yacht such as docking, mooring, and more.
Our crew will maintain the yacht throughout your week onboard to the highest cleanliness standards.
Our crew will lead any activities you partake in (hiking, snorkeling, water sports, etc.) to share their local insights and ensure everyone's safety.
Our crew will provision the boat for the week in advance of your arrival, taking into account any special dietary needs/preferences.
Our crew will prepare all snacks, drinks, and world class meals, which are included in your charter price.
Our crew will provide general service to all guests, sharing their impeccable hospitality each day and night.
As you can see, it's an entirely different experience to charter a yacht fully crewed compared to captain-only. If you're looking for the ultimate luxury escape, visit our Yachts page to meet our crews and check availability.