Our all inclusive yacht charters include a lot – which is why "What should I pack?" is a frequently asked pre-arrival guest question. Not to worry, we've got you covered! Here is a simple guide to help you check this item off your to-do list so you can focus on how excited you are for your upcoming vacation.
Here's what to pack for all inclusive yacht charters:
DO bring soft-sided duffles or luggage. Storage on a yacht must be strategic, so being able to stow away your bags once you're unpacked is key to everyone's comfort and mobility.
DO bring any age-specific baby gear. If you're traveling with young children under 30lbs, we recommend that you bring an appropriately sized life jacket.
DO bring any medications you require, as we may not be close to a stocked pharmacy at any given point during your charter.
DO bring your passports (and visas, if required, depending on your origin country)
DO bring swimsuits and comfortable beach wear. Everything is pretty casual in the Caribbean, so you'll feel right at home in easy, breezy outfits, day and night.
DO bring sun protection such as rash guards and hats. You'll be in the sun a lot more that you likely are at home, so give yourself the option to cover-up.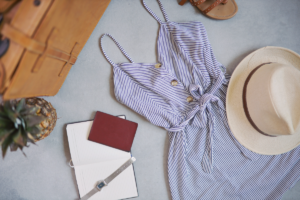 And here's what NOT to pack for all inclusive yacht charters:
DON'T bring any non-reef-safe sunscreen. It's important to protect our reefs and regular sunscreens bleach the coral and cause other environmental damage. We have reef-safe sunscreen onboard our yachts, or you're welcome to bring your own if you require a specific brand.
DON'T bring any food, snacks, or drinks. All inclusive yacht charters cover every meal; we promise – you will not go hungry! If you have specific dietary requirements, you will have the opportunity to let us know when you complete your preference sheet a week prior to your yacht charter. We will then plan accordingly and you will be well taken care of.
DON'T bring anything fancy that can't get a little wet. We'll be traveling to and from the yacht via dinghy often so designer purses, expensive shoes, and prized sneakers aren't practicable or worth the risk.
DON'T bring water sports gear. Our boats are well-equipped with endless water toys including snorkel gear, scuba gear, paddle boards, and more.
DON'T bring games, etc. We've got all the fun stuff – for all ages – onboard for you, and you'll be able to download any movies or shows you wish to watch on charter.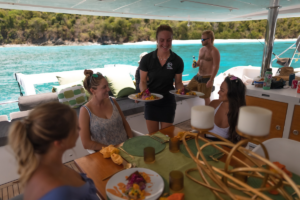 Still have more questions about what to pack, what to expect, and more pre-charter questions? Visit our blog for more useful posts, or contact us for further vacation concierge services.