A trend reserved in other times for tycoons, rockstars, soccer stars and celebrities who sought refuge in privacy away from the paparazzi, today it is also an option to avoid the throes of the pandemic. It offers the tranquility of sailing the seas of the world, in small groups of friends, couples and team building.
Habitués of these experiences call them tasting. Catamarans are, without a doubt, the best option for lovers of privacy, exclusivity and all inclusive. There is a tourist segment that is growing more and more every day in the shadow of the traditional luxury navigators, the cruise ships, with a proposal that consists of living a few days, a week sailing with a rented captain or with one's own crew, but counting on one of the travelers have a license to drive it. This can decrease up to 50% of the total cost of the offer.
Consultations for the summer increase with options ranging from US $ 15,000 to 20,000. Private boats are a new rental option with many items included that, when it comes to doing the math, provide a very good option, especially if you travel in groups in which a few good pesos are gathered before leaving for destination, in some cases reserving up to a year in advance. It is a luxury tourism but it covers a wide variety of budgets. You can rent from catamarans to yachts, through sailboats, schooners, with capacities ranging from 2, 8, 10 or up to 20 people. And live a kind of Big Brother with everything planned, to avoid major conflicts and have a superior 5-star experience.
The nautical charter
When we talk about organizing a private boat trip, there are many questions that may come to mind: How do I know which boat is the ideal one for the trip I have planned? What documentation do I need? Where to navigate? Are there routes better than others? What are the best destinations?
"Luckily, a nautical charter service can answer all these and many other questions that may arise in the process. In fact, one of the great advantages of a service is precisely personalized advice throughout the planning and booking process. of the trip", they explain from Top Sailing Charter. Before leaving, there is also the possibility of attending webinars to be well trained in which Sergio Alós, CEO of the company with extensive experience sailing around the world, is in charge of addressing different aspects related to the different destinations. all adventure queries.
The ideal boat, key to Big Brother at sea
The choice of the boat is fundamental, the one that adapts to the specific needs, such as the number and style of the crew. Sufficient space in the interior and exterior spaces is essential to guarantee a stay without conflicts.
Options:
Catamaran: it stands out for its great stability as a result of its structure, made up of two identical hulls parallel to each other, its two engines and the fact that it does not have ballast makes this type of boat very light. Being able to accommodate up to 12 people, this is an ideal intermediate option at an economic level for groups of friends or families. Outside, they offer spacious areas to enjoy a good sunny day, while inside they provide more space than somewhat smaller boats such as sailboats.
Schooner: they are unique boats (yes, no two are the same) of great size and classic style that offer the best features to spend a few weeks at sea. Its use is quite common in certain destinations, such as Croatia, Turkey, Greece, Italy or even the Balearic Islands. They generally include a crew on board, although you can go with your own captain depending on the company you hire. Normally captain, cook and two or three additional crew members, being able to have the first two in the most basic alternatives.
Sailboat: it is a monocoque ship with two sails. In the case of recreational models, they are examples for lovers of the classic, in which the traditional navigation experience is enjoyed, but with the latest technology. They have less space in their interior compartments given their smaller size, being able to have two, three, four, five or six cabins.
Yacht: these are motor boats of 15 to 30 meters with spacious cabins, all with their own toilet, which are usually rented with a crew of two to five people. Beyond all the comforts offered by this type of boat, they are the best alternative for some destinations. For example, Greece, the Cyclades islands and, in particular, Santorini. or the Virgin Islands, visiting some of the corners of these 90 islands, islets and cays with a crew that is an expert in the area since they have lived in the place for many years. It is not just an operator. ¨The American Virgin Islands, especially the Leeward, are a perfect combination of Caribbean impetus and discreet elegance with European "charme", synthesize those responsible for &Beyond Yacht Charter. Fishing, hiking, snorkeling and diving are some of the proposals or simply surrender to the landscape from a deckchair (contactus@andbeyondyachtcharters.com).
These adventurous guides have a program that has everything thought out and included. From the decisions of where to eat – the chef ensures autochthonous, natural cuisine fresh from the sea -, to where to go each day of visit, which transport to take, which hotel to choose in case you decide to spend the night outside of their luxurious ships, which They range from 2 to 5 cabins, from 40 to 60 feet.
Megayacht: The most elegant and comfortable option of all, with endless lengths between 30 and 60 meters. These are boats with two or three floors, which have four or five cabins and a service of around 10 crew members for rentals of 8 to 12 people. This type of boat has its own captain and crew, who will be in charge of attending to the guests; some have swimming pools, saunas, jacuzzis, cinemas, basketball courts and even heliports.
Insurance on the high seas and against the Coronavirus
There is a segment of luxury catamarans and sailboats that prevailed over all boats with the arrival of the pandemic and began to present themselves as a replacement for high-end hotel accommodation, offering tourists personalized food service, walks in contact with nature and a private area away from Covid 19 since all passengers enter tested and live in a bubble throughout the expedition. Each model has its own bathroom (hygiene in most cases where a captain or skipper is not hired is left to its members). And due to capacity issues, they can accommodate up to 20 people on average, although their capacities allow up to 48.
Where others cannot reach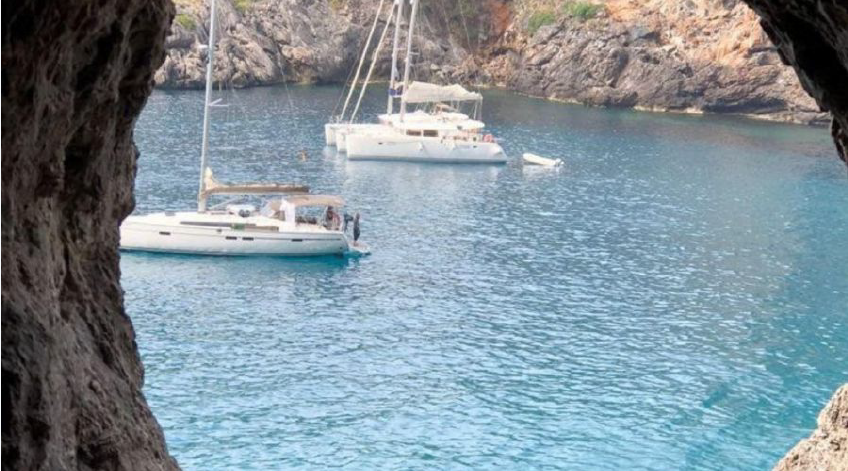 Renting a boat allows the passenger to save on hotel rates by sleeping in cabins and moving to different places by way of free excursions, going down from port to port in a predetermined circuit exquisitely suggested by where the ship should go, and access by water to exclusive areas where others cannot reach. You can also "anchor" in the middle of the sea or in panoramic corners that are usually the postcard of the trip at dawn, during twilight or when you jump into the void from the boat to swim among turtles and colorful fish and other surprises. "It is an experience of independence and privacy, which is what many people are looking for today," says Cecilia Vignolo, sales manager of Biblos Travel. "Some choose stays of 2 or 3 days or a week. Many indulge themselves and take advantage of the
boats to go down to snorkel or to fish," said María Chiarotti, from the Mercado Turístico agency.
"The boats are offered mainly for tours of places where the geography allows it with greater safety. In beach areas of Brazil (the destination most demanded by Argentines), starting from Angra do Reis or Para Tí and the Caribbean are the most classic and accessible for Argentine tourists. But there were also reservations on the coast of Croatia and throughout Europe appealing more to a level of luxury", added Vignolo.
In Argentina not everything is included
As for prices, you can pay in pesos if you hire from Argentina, but there is a wide range of options. Those provided below include boat rental, fuel, insurance, operating fee for cabins, ports of embarkation and disembarkation without crew or meals:
Sailboat Wind 34, with two cabins, one bathroom, and capacity for 6 people, price for five nights u$s1080.
For a Jeanneau 469 sailboat, with four cabins, four bathrooms and capacity for 8 passengers, you must pay US$3,680 for five nights.
For a Lipari 41 Catamaran, with 4 cabins, two bathrooms and 8 passengers, the same number of nights as the previous ones costs u$s4190.
Crewed option (a captain on board): Catamaran for 7 passengers, for five nights u$S10,500
According to Biblos travel, renting a boat for a day is an alternative that is being consulted more and more. There are departures with or without crew and they always include the necessary elements for water sports, food and drinks. In the Bahamas, for example, for this summer a boat for 8 passengers can cost
from US$3,500. There are also some who choose this option to navigate within Argentina. "In Bariloche or Villa La Angostura, there are tourists who decide to rent a boat for several days but without sleeping on it," said Chiarotti. "They rent a house with
dock and they go out for a walk every day and in some cases it is chosen with a crew, "he added. "It also occurs in Usuhaia, where many people who have experience in navigation usually go and combine their vacations with adventure tourism," he concludes.
High-end destinations to plan
Turkey and Croatia are among the most in-demand luxury destinations. Both with history and unique exoticism in Europe and Asia. A week with family or friends on a cruise through the Dalmatian Islands between Split and Dubrovnik or through the Kohati Islands archipelago. Gulets and catamarans are ideal in Croatia for families or groups of friends formed wanting a unique, exclusive and special experience, for special small events and business trips or team building or alone. The language of communication on the ship is generally English but everything can also be arranged in Spanish. The capacities of the gulets in Croatia are usually between 6 and 14 people a board, few have more capacity and, those that are larger, have a capacity of up to approximately 40 passengers. Depending on the cruise category and season, weekly rental prices vary widely, generally between 15,000 and 65,000 euros, but the rent can also reach up to 200,000 euros per week. They are rented by the week, from Saturday to Saturday (info@ekorna.nert).
Turkey is a must, after passing through the obligatory stopover, Istanbul, we will have to go to the marinas of Marmaris, an area bathed by the Aegean Sea and the Mediterranean, where they converge to enter exclusive circuits that touch paradises such as Gosek or the Bay of las Mariposas, to appreciate the sunset surrounded by sea turtles, reggae and crown the journey with good local drinks despite alcohol restrictions.